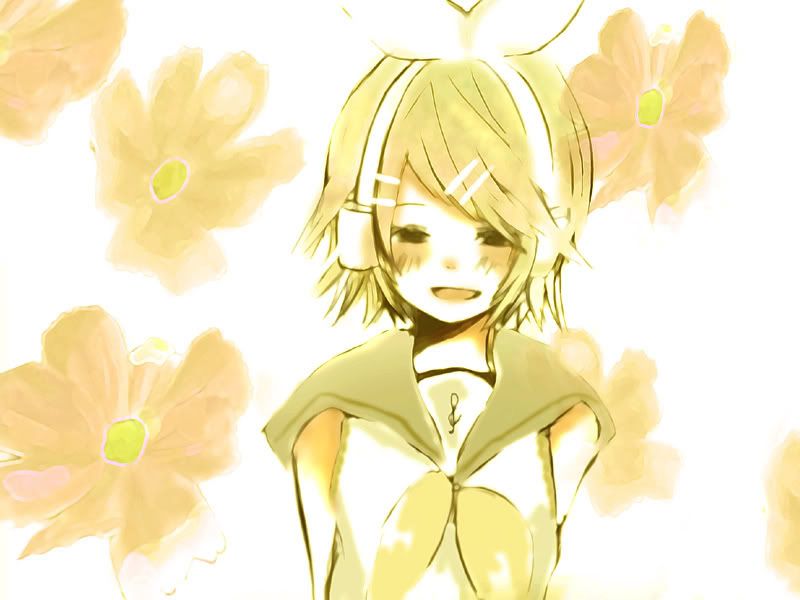 This artwork style kind of reminds me of
Honey and Clover
(review to come?).
With the amount of vocaloid videos that I watch every week and enjoy, it's nearly impossible to post them all up individually (though it does makes for post count). Now instead, I'll be posting them in batches of 2 or 3, so that I can cover more ground on good vocaloid songs, unless it's really too good which deserves an individual post (or I got lots of things to talk about it "eg:
Miku's Sakura no Ame
").
OSTER project
feat. Kagamine Rin - RING x RING x RING.
The same group who brought to you Chocolate☆Magic (found in my
Valentine Day post
), comes a cute single of Rin. I really love the art and the way they "animate" the video, makes it really cute.
Mp3 and Lyrics can be found
here
(to download you'll need to be a member of the site though).
Kagamine Rin - Kokoro. Music and Lyrics done by
Toraboru
.
A song of a robot being born without a "heart", on a road to self-recognization, to understand feelings and to know it's purpose for existance. There's another Rin song done by Toraboru but doesn't really ring along with me, just posting the
youtube link
if you're interested.
Mp3 is found
here
, while Lyrics is
here
.
Kagamine Rin - Yotsuba no Clover (4 Leaf Clover). Also done by Toraboru.
I first came across this song from a video where someone was self-singing it, and I liked the song. Eventually went to search for the original which is this. However I think I found the self-sang version alot nicer, sweet sounding girl too. Throwing that version below this. I couldn't find a youtube version of it thus not putting it up. But if anyone requests for it (especially non-nico users), I'll rip it off nico and host it on youtube for you.
They seemed to have taken down the mp3 link for this song (it's an old song), but there's still the lyrics which is found right over
here
.
Another version of Yotsuba no Clover (someone else singing it).
Going off-topic. Been too occupied with Shogun that I didn't do any post on the blog, but since I had completed my Imagawa campaign I had some time on hand to do this post. However I had just installed Rome Total War, so I might "forget" to update the blog again. Will try not to go down that path but no guarantee. My
Sawatari Makoto figure
had also arrived about a week ago, but have yet to take her out of the box and do a photo shoot. I'm thinking of a few places to bring her to take some photos but not sure where yet (
Botanic Gardens
is one place). *Wonders where in Singapore has lots of flowers and is not a tourist location, and no I'm not going Changi Airport for that, nor standing in the middle of the stretch of road that is along the way to the airport taking photos.* Anyway, until next post. Signing out.