A slightly different format from my other posts; rather than lots of photos, I'll be posting videos of the show performances from
Tokyo DisneySea
(Not my videos though, but searched from youtube from others). There still will be photos, but not much.
The first thing you'll see once entering DisneySea.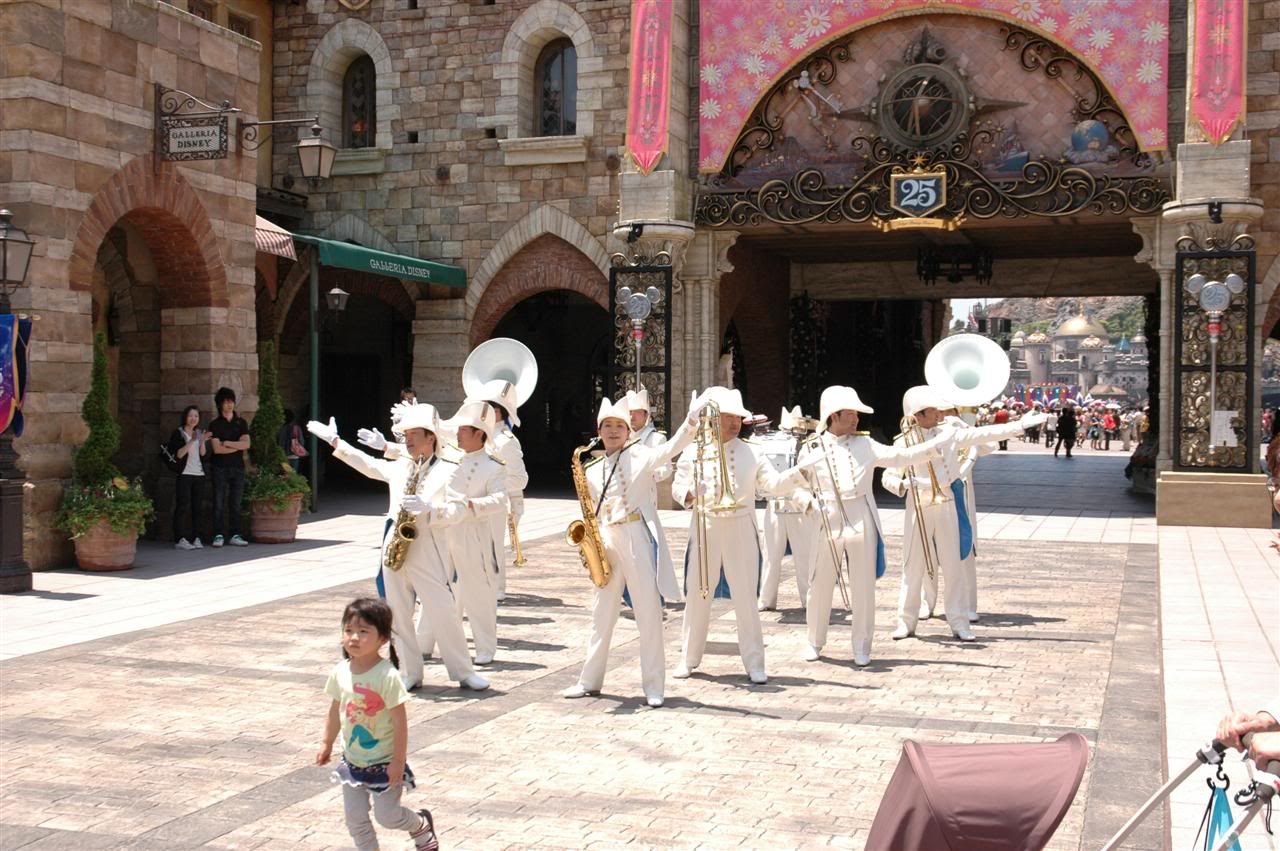 Band performance welcoming everybody to the place. The lady with the
sax
is not too bad looking too.
Upon entering the main area, we saw lots of people sitting/standing around, and we were wondering what was the crowd waiting for, which turned out to be the show performance
"Primavera: Springtime Sea"
. I'll come to that later in the post.
Random scenery shot. Felt like we're in
Venice, Italy
.
The only ride I actually enjoyed in both DisneySea/Land. The
Tower of Terror
. It's a free fall ride, and I sat it 3 times! The 4th time I wanted to sit before the park closed, they had some system error >.<" Bad Tiki! (We nicknamed the "statue" in the ride Tiki, which is some "cursed" ritual idol.)
Random photo of a Micky statue.
Some fountain with an
Aladdin
theme. The genie styled water-shooters (I don't know what they're actually called lol) are cute! Every different one had different facial expressions.
I have no idea this sub came from which Disney story, but it looked nice so here's a shot.
Overview of the main area (or at least the entrance to the main part of the park). See the number of people along the waterfront? They're all waiting for the show to start. People queue/wait/book places like 2 hours (there's one parade in Disneyland, people were already waiting 4-5 hours before it) before the actual showtime. Hardcore fans -.-"
We watched both daily performance of
"Primavera: Springtime Sea"
, and snapped lots of photos. This is where I would rather have a good videocam though, in order to capture the whole show in action. A camera just doesn't do it justice. At least there are many others who did have a videocam, and surely someone would have posted on youtube, so I searched them out and here you have them!

A good edited copy of the show, but it's not the full complete performance sadly.

I believe this would be a good presentation of what we saw, as we were at the same area as this person (for the morning performance). Part 1.

Part 2.

Part 3.

Seems like the love for Disney is strong with this little one. She was dancing along to the songs, with the same dance routine as the performers (she actually memorized? amazing). Those around her cheering her on too. Really really cute.
And during the afternoon performance, I spotted this guy at the top of a building, also dancing along to the songs with same dance routine. Heck, nearly 30% (estimate) of the audience WERE dancing along to the entire show with its dance routine!! Real big fans of Disney I guess.
This night show performance is called
"BraviSEAmo!"
. We arrived late for this show though, as we were having our dinner just before, so we missed out the first part (we didn't even know of this show till we went to the main area for the fireworks and saw it). I really enjoyed the
pyrotechnics
used in this performance.
Cheers for others with videocams! I can rewatch it from the comfort of home.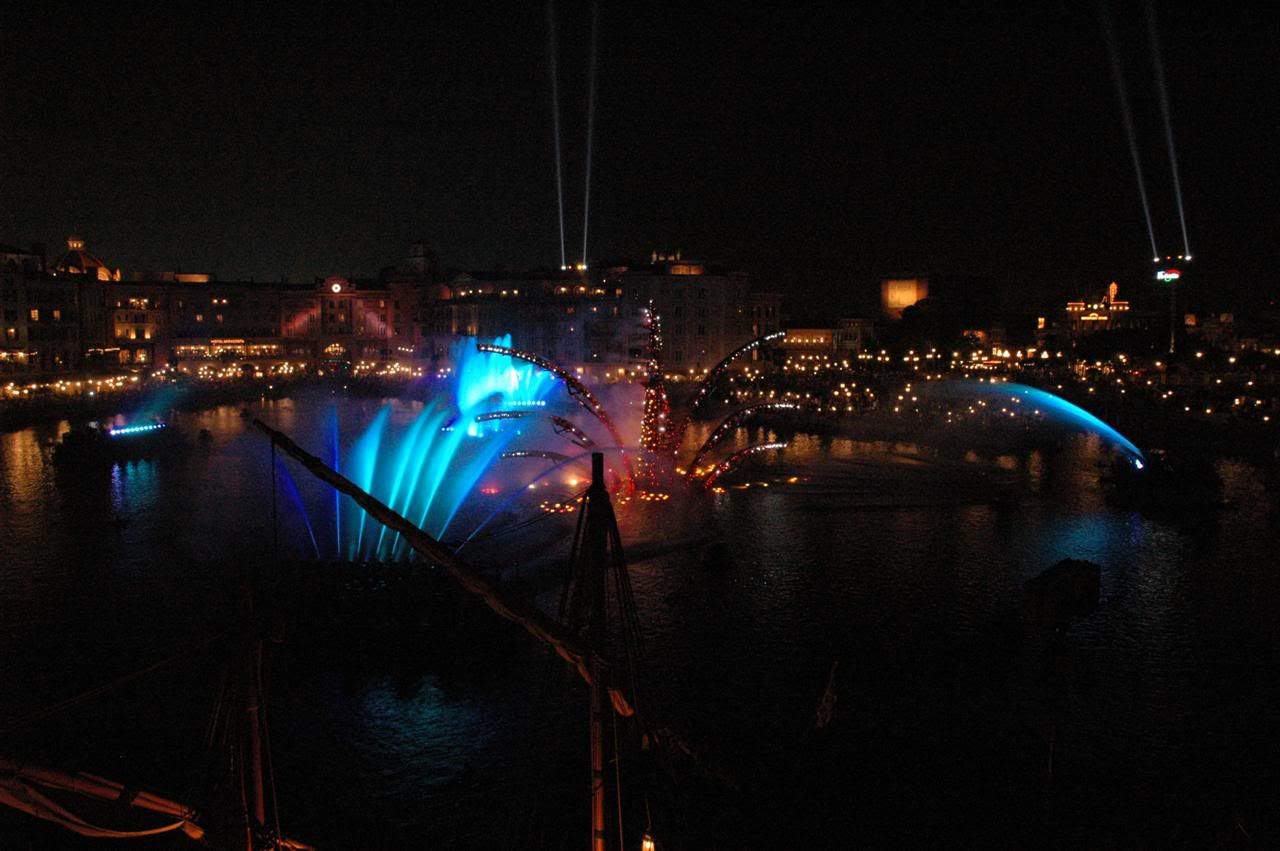 Another shot of the show. Sadly, due to bad weather conditions, the fireworks show we were waiting for, that was supposed to happen after this show, was canceled.
Overall, it was a good experience to visit DisneySea, something new to me, as I've been to the
Anaheim's Disneyland
in the US before back in 1996. But seriously... the rides were boring!! (Besides Bad Tiki) And the cost of entry to the place is also not cheap, @ 5,800 yen for a day visit, or 10,000 yen for a 2 day pass. I'll definitely not return to this place, unless I have no choice (GF maybe?), or someone is paying for me (family trip). At least the show performances, Primavera and BraviSEAmo, were very enjoyable. Anyway, next post will be on Disneyland, but that was a letdown so don't expect much. Signing out.